Residence Ramerino in Tuscan Maremma
We are in Maremma, a magical, unspoiled and little known area of Italy. Once a land of swamps and bandits, today it is a land of green, sea and silence, a land of ancient history and new frontiers, where you may be overcome by the beauty of nature, the warmth of the people or by the gaiety of local festivals and where you can find yourself, almost without realizing it, sitting in a farmyard with a good glass of local red wine, Monteregio, and a plate of hot bread and excellent wild boar salami.
This is where the Residence Ramerino, after more than fifty years of neglect, has recently revived thanks to the perseverance of two Milanese converted to silences and rhythms of the Maremma countryside and stubbornly determined to defend the integrity of its lands from contamination of chemical herbicides and fertilizers. This choice of naturalness and authenticity is reflected in superior quality of extra virgin olive oil, made exclusively from hand-picked olives in their olive groves.
The five units that constitute Residence Ramerino were designed to ensure privacy and comfort to each group of guests. Each apartment has a private independent entrance, however some of them may be connected for large families or groups of friends. The apartments have been carefully furnished according to the rustic Tuscan style and equipped with any kind of comfort.
The Leccino is a small and very nice Tuscan farmhouse, a small independent house of about 70 sqm, in the Mediterranean scrub, in a place of matchless beauty.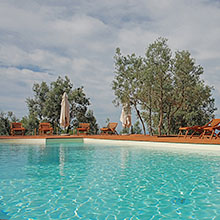 The swimming pool is surrounded by a large terrace paved in brick, offering comfortable bed chairs and sun umbrellas wisely positioned amongst our olive trees.
They are fitted with bed linen, towels and enough dishes, glasses and pots to satisfy guests living there and any additional friends. All the kitchens are fully equipped for a pleasant stay, freezer and dishwasher are available in larger apartments.
We are located in the "Colline Metallifere" Natural Reserve (Park)sorrounded by olive trees and the green of the mediterranean scrub.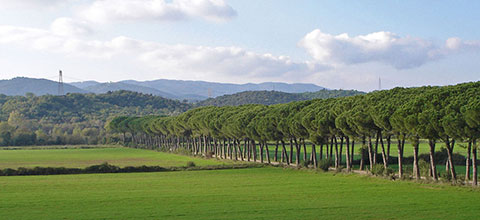 The area presents countless possibilities for holidays to suit all tastes and all ages. There are ancient places of art, hiking and biking routes, amusement parks for kids and, for the sweet tooth, farms and wineries that offer the taste of typical Tuscan tradition.